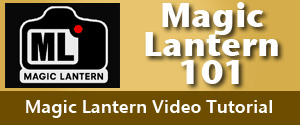 Available July 15
Cost = $FREE
Magic Lantern is an add on software for Canon DSLR cameras. It turns your camera into a fully functioning production camera with plenty of bells and whistles including:
AGC defeat
Left / Right / Stereo audio with independent inputs, gain controls and meters
Focus helpers including pop up zoom, focus peak, follow focus, rack focus
Metering including Histogram, waveform, Zebras, False Color
Still camera features include Intervalometer, Audio Remote Trigger, Motion Detect
And much more…
This series of training videos will take you step by step through the Magic Lantern software including installation and best settings for your camera. Get on the mailing list to secure your spot!